Almaty and Baku tour 4 nights
Location: Azerbaijan :: Europe

Duration: 04 nights and 05 days

Package ID: 1055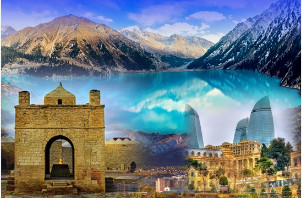 Azerbaijan is a fast growing nation on tourism map in the world. Recent number of tourists annually visiting Azerbaijan is over 2.5 million. Tourism is fast developing in Azerbaijan. World Travel and Tourism Councils' recent report says that Azerbaijan is among top ten countries that saw spike in tourism from 2010-2017. Azerbaijan is also on top in the list of fastest growing travel and tourism economies in the world last year where it saw huge increase in number of visitors coming to Azerbaijan. You should also grab the best Azerbaijan Tour Package and visit the beautiful country.

Azerbaijan attracts everyone. Its ancient historical, cultural heritage and natural landscape attract scholars, art connoisseurs, musicians and tourists from all over the world to come and see the country. Azerbaijan is known as the "Land of Fire" due to its petroleum reserves and thousands of ground sources of natural gas, many of which have been burning for thousands of years. If you ask when to go to Azerbaijan with Azerbaijan Holiday Package then the answer is that the climate of Azerbaijan creates favourable conditions for both summer and winter holidays. Azerbaijan is officially a strictly secular state and mostly agnostic and non-religious nation. There are plenty of things to enjoy on Azerbaijan trip with Azerbaijan Package. There are summer resorts at the shores of the Caspian Sea and winter resorts in high mountains. You can go for trekking, horse riding, combined with sightseeing to UNESCO World Heritage sites. If you want to buy specialty of Azerbaijan then you can do shopping of world-famous carpets and entertainment lovers can simply enjoy fabulous music or opera-ballet performances in Azerbaijan.

Azerbaijan Tourists Cities

Azerbaijan is located in the South Caucasus region of Asia and bordered by Russia to the north, Iran to the South, the Caspian Sea to the East and Armenia to the west. Baku, Ganja, Sumqayit, Mingachevir, and Lankaran are the five biggest cities in Azerbaijan.

1. Baku: Baku is the capital city of Azerbaijan which makes it the biggest city in the country. It is also the largest city in the Caucasus region and the country's cultural, industrial and scientific centre.

2. Ganja: Ganja is the second biggest cities in Azerbaijan and inhabitants started to settle here in the fifth century in areas around Nagorno-karabakh. The city has a number of interesting shopping markets, mall, and a shop selling items from local to foreign products.

3. Sumqayit: Sumqayit is the third biggest city in Azerbaijan which is located close to the Caspian Sea and the only city founded. It is also the next biggest industrial centre in the country to Baku.

4. Gabala: Gabala is just 225 km away from the capital city, Baku. It is a perfect place for tourism and the weather makes its marvellous to see the gorgeous historical places, the city and its vicinity.

5. Sheki: Sheki is a small city but a travel gem located on forest slopes of the Caucasus Mountains. The small city has a lot of historical attractions to offers and in particular, the Palace of the Sheki Khans is a truly magnificent piece of artwork.

6. Naftalan: Naftalan is a city in Azerbaijan which is located 330 km west of Baku and 50 km from Ganja. It can be reached by rail and the closest airport to the city is the international airport of Ganja. It's a small town with some beautiful sightseeing to see and explore.

7. Nakhchivan: It is the capital of the Nakhchivan Autonomous Republic of Azerbaijan and it consists of the city of Nakhchivan and the first mention of the city was mentioned in the works of Yosef Flavy, a first-century historian.

8. Mingachevir: It is the fifth biggest city in Azerbaijan and its modern city was founded in 1948. He mid-size city is also popularly known as the city of lights for the hydroelectric power is located by the Kur River.

9. Lankaran: Lankaran is a coastal city located near the southern border of the country. There are mineral springs here located about 12 km of the city and the ruins of the Ballabur castle are also found nearby the location.

Day 1: Almaty Welcomes You
Arrival in Almaty

Transfer airport-hotel by bus/ check-in to the hotel

Transfer for dinner at indian restaurant

Transfer to hotel

Free time – can explore night life activities at you own.

Overnight at hotel.
Day 2: Almaty Meadows and Chimbulak.
After breakfast Transfer to excursion

This tour provides you the best opportunity to see the beautiful mountain surroundings of almaty city. The first stop of the tour awaits you in the medeo gorge, where in the wonderful mountains of trans-ili ala-tau the largest high mountain skating rink in the world is located as well as the huge dam, protecting the city from destructive mudflows formed on the tops of the western tien shan. Next destination is Chimbulak ski resort (cable car fee included), located at an altitude of 2230 meters above sea level. It is very popular for its mild climate, large quantity of sunny days and snow through the winter and remarkable scenery of mountain ranges.

Late lunch in indian restaurant

Almaty city tour with english speaking guide

You will know more about history and development of the southern capital of kazakhstan and see its major attractions:, palace of president, republic square and monument of independence, and astana square, panfilov park, abai square and palace of republic, presidential park.

Transfer for dinner at indian restaurant

Transfer to hotel

Free time – can explore night activities at you own

Overnight in hotel
Day 3: Almaty - Baku
After breakfast checkout from hotel and transfer to airport.

Depart Almaty

Arrival in Baku

Transfer from airport to restaurant.

Lunch at Indian restaurant

Check in at hotel

Assembly at hotel lobby & proceed to Panoramic City Tour:
Visit to Highland Park - alley of martyrs, the national assemblyalso transliterated as millimajlis, flame towers-the tallest skyscraper in baku.
Later you will visit Baku Crystal Hall an indoor arena in baku, azerbaijan. Located on the coast of baku near national flag square, construction of the arena began in august 2011 and finished in april 2012—in time for it to host its first major event, the 2012 edition of the eurovision song contest
Walking through Baku Boulevard which stretches along a south-facing bay on the caspian sea. It traditionally starts at freedom square continuing west to the old city and beyond. Since 2012, the yenibulvar (new boulevard) has virtually doubled the length to 3.75 km.

Dinner at Indian resturant .

Transfer to hotel .

Free time – can explore night activities at you own.

Overnight in hotel.
Day 4: Baku City Tour
After breakfast our tour program starts with old city or inner city is the historical core of baku, the capital of azerbaijan. The old city is the most ancient part of baku, which is surrounded by walls were well protected. In 2007, the old city had a population of about 3000 people. In december 2000, the old city of baku, including the palace of the shirvanshahs and maiden tower, became the first location in azerbaijan to be classified as a world heritage site by unesco.

Lunch in indian restaurant

After lunch group will experience the happening street of nizami street known for shopping.

Tour continues with the visit to the charming example of modern achticture. The heydar aliyev center a 57,500 m2 building complex in baku, azerbaijan designed by iraqi-british architect zahahadid and noted for its distinctive architecture and flowing, curved style that eschews sharp angles. The center is named after heydar aliyev, the first secretary of soviet azerbaijan from 1969 to 1982, and president of azerbaijan republic from october 1993 to october 2003. (photoshoot outside).

Transfer for dinner at Indian restaurant

Transfer back to hotel .

Free time – can explore night activities at you own.

Overnight in hotel.
Day 5: Flames Tour

After breakfast assembly at hotel lobby. Trip to "Fire Mountain - Yanardag" - a mountain on absheron peninsula, 25 km from north of baku. Literally, word "yanardag" means "blazing mountain". Blazing bodies of flame dance on stones and floor. Yanar dag is a natural gas fire which blazes continuously on a hillside on the absheron peninsula on the caspian sea near baku, the capital of azerbaijan, which itself is known as the "land of fire."
Tour continues with ateshgah (fire worshippers temple) based on persian and indian inscriptions, the temple was used as a hindu and zoroastrian place of worship. "atash"» is the persian word for fire. The pentagonal complex, which has a courtyard surrounded by cells for monks and a tetra pillar-altar in the middle, was built during the 17th and 18th centuries. It was abandoned in the late 19th century, probably due to the dwindling of the indian population in the area. The natural "eternal flame" went out in 1969, after nearly a century of exploitation of petroleum and gas in the area, but is now lit by gas piped from the nearby city Lunch in indian restaurant at 1300 hrs

Continue with

baku ferris wheel

, also known as the baku eye is a ferris wheel on baku boulevard in the seaside national park of baku, capital of azerbaijan. The wheel is 60 metres tall and has 30 cabins, each holding eight people. It makes a complete turn in 30 to 40 minutes.




Start shopping tour with local sweet shop, Azerbaijan Brand:

Aliahmad's


Proceed to

Local Vine and Alcoholic Drinks Shop


Continue with

"Xurcun"

dry fruits and sweets shop




Transfer for dinner at Indian restaurant




Transfer to airport




Depart Baku.



Accommodation in mentioned HOTEL on Twin / Double Sharing Basis.

Daily buffet breakfast in the hotel.

Visa assistance for Kazakhstan and Azerbaijan.

All Tours & Transfers in AC luxury coach (Seat in Coach basis).

Guided city tour of Almaty and Baku (As per attached itinerary).

Entrance fee for Ferris Wheel.

English Speaking guide from arrival till Departure.

Meals on full board basis including one grand Gala dinner in Indian Restaurant with Veg, Non Veg Snacks, free flow of Vodka, Beer, soft drinks & world Class Belly Dance Show Program.

02 Water Bottles PP / Per day.
Please Note:
Flight booking is subject to availability of seats on flights.

Our quotations will include GST of 5%.

The tour package cost is calculated as per current dollar conversion rate and prices may vary at the time of booking the package.

The visa application, flight seats and hotel rooms will be blocked only upon confirmation and payment.
Azerbaijan normal tourist online visa application process takes 5 working days.
Documents required:
1. We'll need scanned passport copy in JPG format not exceed than 1 MB.
2. Soft copy of photos.