12 Days Roman Algeria And The Sahara Africa (Algiers 4N, Batna 1N, Djanet 6N)
Location: Algeria :: Africa

Duration: 11 NIGHTS / 12 DAYS

Package ID: 1245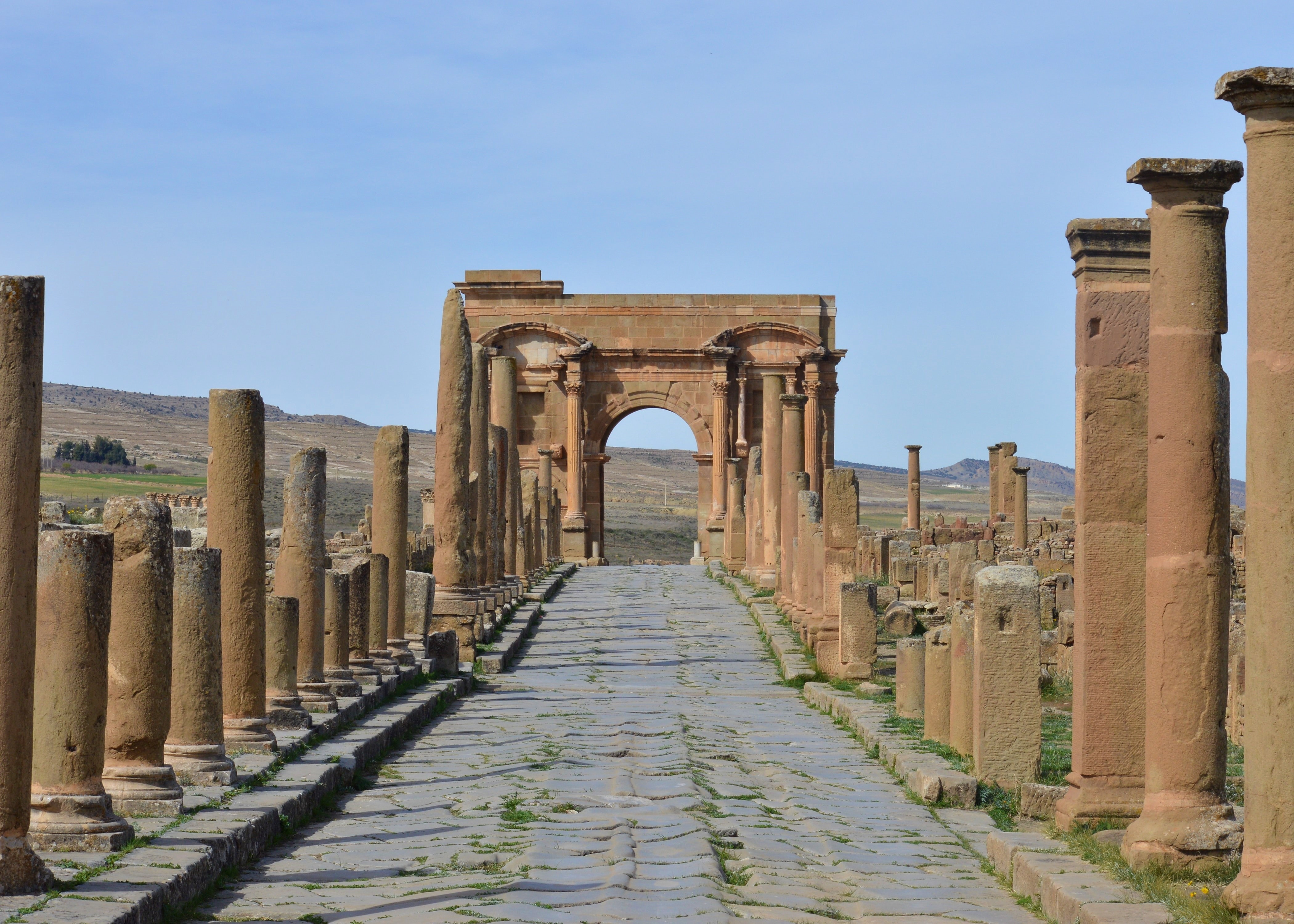 The city is home to numerous attractions, including the Great Mosque, the National Library, Martyrs Square, the Bardo Museum and multiple monuments and forts. Batna is the main city of Batna Province, Algeria. With a population of 290,645 it is the fifth largest city in Algeria. It is also one of the principal cities of the Chaoui area and is considered the capital of the Aures.
Day 01
:
Arrival-Algiers City Tour
Arrive Algiers. Our guide will meet you at the airport following which you will be transferred to the hotel to stay there for three nights. In the afternoon you will be taken to important places in the city such as Place des Martyrs, Place Emir Abdelkader, neo-Moorish Grande Poste, Esplanade etc.
Day 02
:
Algiers Mediterranean West Tour
Whole-day excursion along Mediterranean west of Algiers- Tombeau de la Chrétienne, Cherchell, UNESCO World Heritage site of Tipasa.
Day 03
:
Algiers-Batna-Batna City Tour
Depart early morning from Algiers by air to Batna where you will visit Le Medracen (Numidian royal tomb) and Roman garrison town of Lambaesis (amphitheatre, praetorian guard) with overnight in Batna. Continue to Setif for flight to Algiers.
Day 04
:
Batna-Algiers
Reach Algiers airport to be met and greeted by your local tour guide. After a brief rest you will be taken to visit visit Bardo Museum, Museum of Antiquities and Islamic Arts, UNESCO World Heritage casbah with visit to mosque, Arts and Crafts Museum, and Notre Dame d'Afrique. Overnight in Algiers.
Day 05
:
Algiers-Djanet
Depart for Djanet. Djanet is an oasis town at foot of Tassili mountains on edge of vast sand dunes of Erg Admer. You will be met by our representative upon arrival and then transfered to the hotel where you will spend the night. During the afternoon you can rest or get familiar with the town.
Day 06
:
Tadrart Desert
Depart in a 4x4 into Tadrart, an extraordinary Saharan landscape of desert mountains, canyons, rock arches, huge sand of dunes. You will visit cave and rock paintings depicting inter alia cattle, giraffes and human beings. Dinner and camping in canyon of D'In-Djarena surrounded by dunes for first night under Saharan stars.
Day 07 :
El Biredj Safari
Continue through Tadrart along El Biredj which comprises of a wide stretch of desert canyons and valleys to Moul el Naga which is known particularly for the beautiful dunes of orange sand. Here you will stay overnight.
Day 08
:
In Zouatane Desert Safari
Continue by 4x4 for In Zouatane (dunes and rock art, spectacular landscape) for overnight in desert.
Day 09
:
A day at Tin Merzouga
Head for the red dunes of Tin Merzouga, along with a circuit of some of the region's most stunning rock arches before retiring for the night. Overnight in desert.
Day 10
:
Back to Djanet
Return to Djanet for lunch and visits in town (including colourful market known for its dates and Touareg cheche turban.
Day 11
:
Djanet-Algiers
Early morning departure by air from Djanet to Algiers. Transfer to hotel overlooking port with rest of day at leisure or independent visits (guided tours can be arranged). Farwell dinner and rest in private villa.
Day 12 :
Departure
Depart hotel for airport for return flight. Hope you had a pleasurable stay with us!
Accommodation in well-appointed rooms and camps
Welcome drinks on arrival
Buffet Breakfast
Airport Pick up & Drop
All Major Sightseeing as per the itinerary
Exclusions
Visa Fee + Flights
Accommodation other than specified
Meals other than specified
Transportation other than specified

Personal nature expenses such-laundry-drinks-tips and anything not mentioned in the itinerary
Above rates are not valid during any major event and exhibition.

Above rates and dates are subject to change without prior notice.

Above rate would not club with any other promotion.

Child age will be considered as per hotel child policy so kindly confirm with our sales team before committing.

3.50 % GST will be extra.

All taxes inclusive are as on date. Any future hike will be charged extra.
CANCELLATION / REFUND POLICY
Date of booking to 30 days the cancellation charges will be 25% of the tour cost.

30 to 15 days - the cancellation charges will be 50% of the tour cost.

15 to 7 days - the cancellation charges will be 75% of the tour cost.

Less than 7 days - Total amount will be forfeited and no refund shall be given.

No show - Total amount will be forfeited and no refund shall be given.
Cancellation Policy is subject to change. It's purely depends upon the cancellation policy of respective hotels. In Peak seasons, Some hotels may charge 100% cancellation. Refunds normally take 10 working days after the cancellation request has been raised & transferred electronically to your bank account.